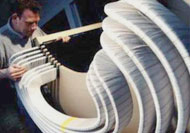 Rotary has its Head Office and main facilities in Sheffield, Britain's fifth largest city. Over one third of Sheffield lies within the Peak District National Park, but it remains a centre of industrial engineering excellence.
Rotary's expertise has been built up over more than 50 years of experience of providing services to the power generation and power users' sectors.

Rotary is now headed by Ian Walker CEng, FIEE, who has been in the industry since the 1980s. He has steered Rotary during a significant time of technological change, so that Rotary now focuses on high added value and high technology diagnostic testing and Residual Lifetime Assessment on the largest high voltage power generators and larger HV motors.
This service is offered worldwide and can provide operators with the factual information required to manage their aging assets strategically for maximum availability.
Overhauls and rewinds are provided on site using our experienced teams and project managers. Our specialist test equipment and tools + tackle are located at strategic areas around the world to enable rapid response to customers' requirements.